"Headliners include Joana Conor (Friday), White Mystery," WTTW
Posted Thursday, August 19th, 2021 at 4:20 pm
To read the full article on the WTTW website, click here.
1. Look up
The U.S. Navy Blue Angels will soar above the lakefront this weekend even though the Chicago Air and Water Show was canceled for the second year in a row due to the coronavirus pandemic. Catch a sneak peek while the team practices from 10 a.m.-2 p.m. Friday.
For the best views, snag a lakeside spot between Oak Street and Fullerton Avenue.
Details: Noon-1 p.m. Saturday and Sunday along the lakefront between Oak Street and Fullerton Avenue. Free / MAP
---
Find more fests: 2021 Summer Festival Guide
---
2. Splash
A Summer Float Party is set for the North Shore Channel of the Chicago River on Sunday. BYO float vessel such as an inner tube, inflatable toy or lounger. Not sure about the integrity of your floatie? Send an email and ask. Rather stay on dry land? Bring a picnic and watch others splash around. Life jackers are required for those who get on the river.
Details: 10 a.m.-1 p.m. Sunday at Dammrich Rowing Center, 3220 Oakton St., Skokie. $7; advance registration encouraged / MAP
---
3. Connect
Billed as the largest lifestyle expo for Black women in the country, the 26th annual Black Women's Expo features seminars, celebrity guests, exhibits and hundreds of vendors including Black-owned businesses.
Details: 10 a.m.-7 p.m. Friday and Saturday; 10 a.m.-6 p.m. Sunday at McCormick Place, Hall B, 2301 S. King Drive. $30; $5 for kids / MAP
---
4. Tour
Chicago's West Side is the focus of the Street Love Ride 2021, which aims unite the city via the notion that no child should believe the streets are their best or only option, according to organizers. Attendees are asked to wear face masks and practice social distancing.
Details: 8 p.m. Saturday. Ride begins at the boulevard across from St. Agatha Catholic Church, 3147 W. Douglas Blvd. Free / MAP
---
5. Behold
This week, artists are transforming blank walls across the city into colorful murals as part of the Titan Walls Mural Festival. A map of mural locations and schedule for artists can be found here. Festivities wrap up with live music and art demonstrations.
Details: Noon-8 p.m. Saturday at District Brew Yards, 417 N. Ashland Ave. Free / MAP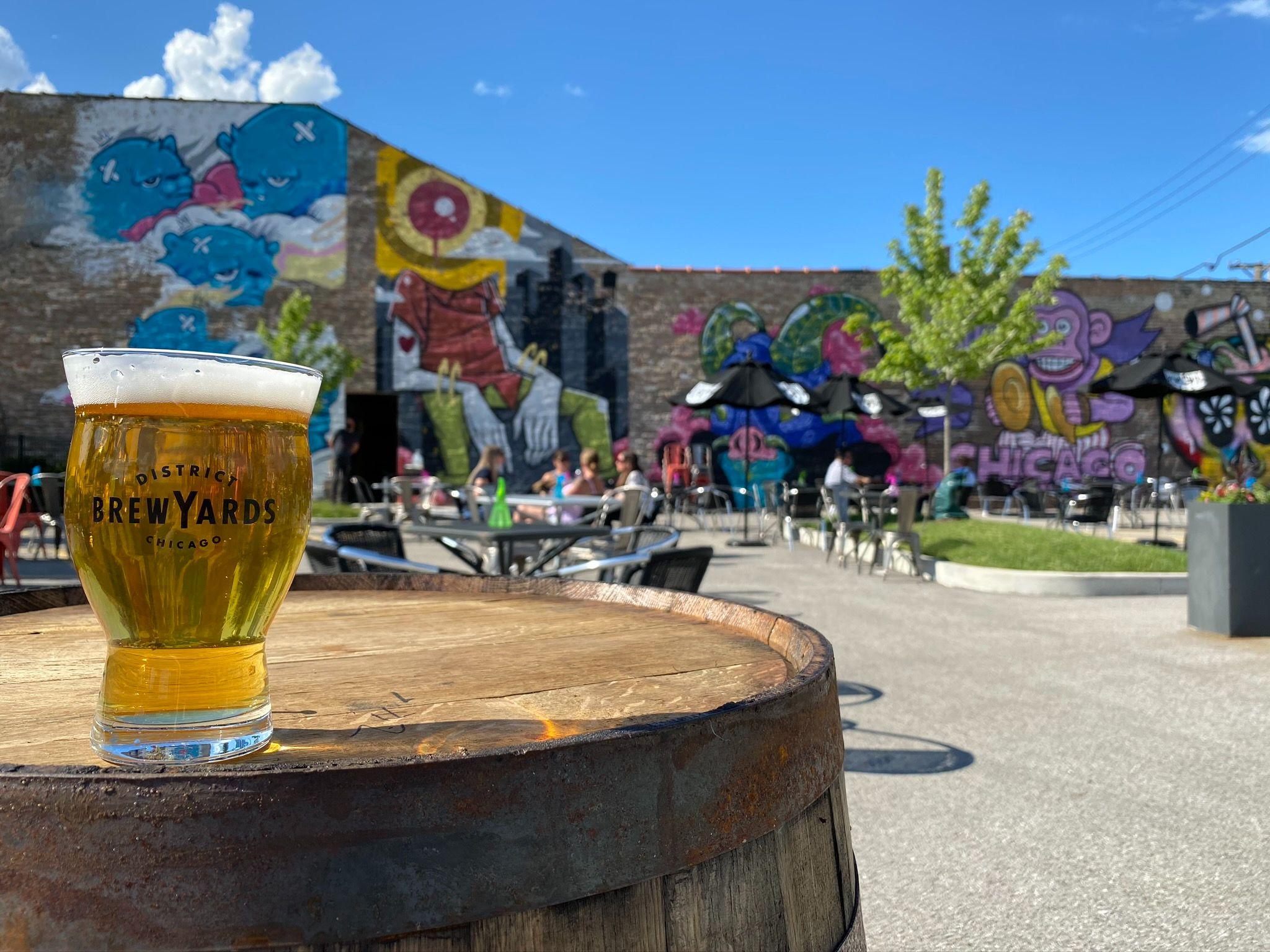 (Credit: District Brew Yards)
6. Hunt
Antiques, home décor and jewelry are among the items you'll find at the Andersonville Vintage Market. Local retailers setting up shop at the alfresco market include Woolly Mammoth, Ruby Lane and Fad2Fresh.
Details: 10 a.m.-3 p.m. Sunday along Catalpa Avenue between Clark Street and Ashland Avenue. $5 suggested donation / MAP
---
7. Stretch
The outdoor, 50-minute Barre on the Rooftop class is led by instructors from Pure Barre River North. BYO mat, sunscreen and hat as there is limited shade. Event is held rain or shine, but will be moved indoors in the case of inclement weather. Stick around for post-class brews and mimosas from Rock Bottom.
Details: 9:30 a.m. doors open; 9:45 a.m. class starts Saturday at Rock Bottom Brewery, 1 W. Grand Ave. $35 / MAP
---
8. Shake it
Latin American beats flood Union Park at Ruido Fest, where you can hear more than two dozen bands, including Caifanes and Silverio (Friday), Moenia and Ivy Queen (Saturday), and Ambar Lucid and Little Jesus (Sunday).
COVID-19 precautions: Bring a mask and note that you must provide proof of vaccination or a negative COVID-19 test result within 72 hours of attending the event.
Details: Noon-10 p.m. Friday; 1 p.m.-10 p.m. Saturday and Sunday at Union Park, 1501 W. Randolph St. $74.99 and up / MAP
---
9. Sample
Classic summer drinks and international cuisine highlights the Sangria Festival and Tour of Latin America Food & Wine Festival in the park. Chow down on dishes like paella, empanadas and arepas from local restaurants and wash it all down with sangria made from local bartenders and mixologists.
Details: Noon-10 p.m. Saturday; noon-9 p.m. Sunday at Humboldt Park, 3021 W. Division St. $20 and up / MAP
---
10. Experience
More than 120 artists and 30 live music acts are on tap for the annual Glenwood Avenue Arts Fest. Headliners include Joana Conor (Friday), White Mystery (Saturday) and Funkadesi (Sunday). Artist demonstrations, craft beer stations and a kids area round things out.
Details: 6-10 p.m. Friday; 11 a.m.-9 p.m. Saturday; 11 a.m.-7 p.m. Sunday along Glenwood Avenue at Morse Avenue. Free / MAP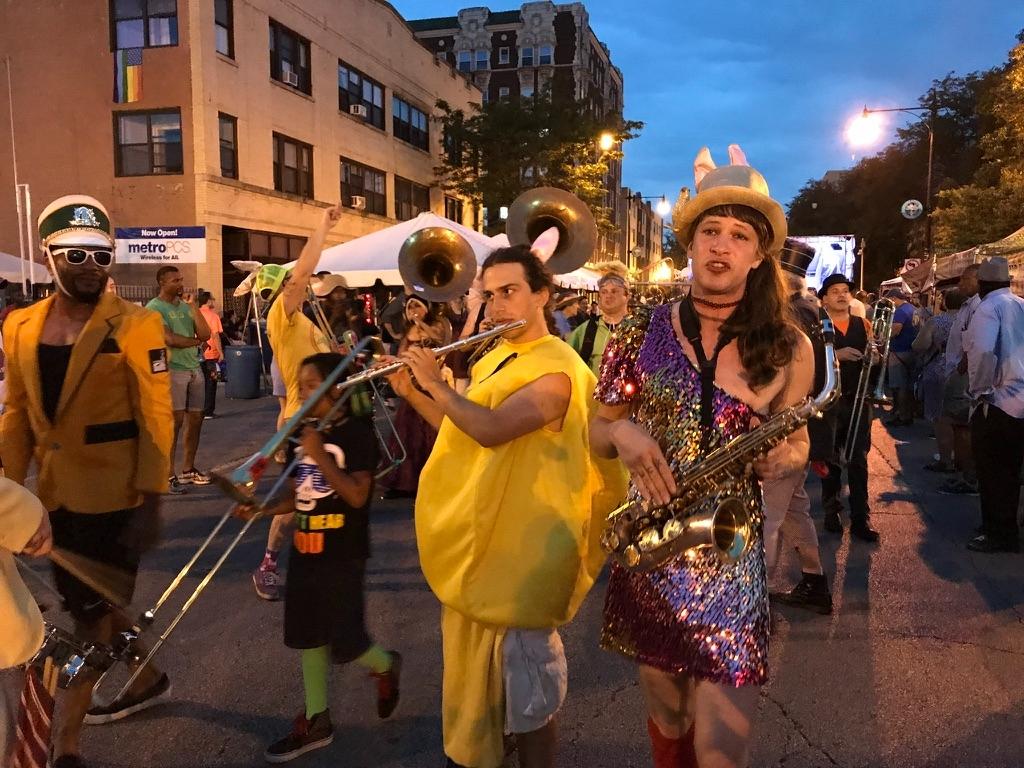 (Courtesy of Rogers Park Business Alliance)
By submitting a comment here you grant White Mystery a perpetual license to reproduce your words and name/web site in attribution. Inappropriate or irrelevant comments will be removed at an admin's discretion.
Posted in
Art
,
Events
,
In the Moment
,
News
,
Shows
Tags:
2021
,
beatsburgersbeers
,
Beer
,
free
,
free event
,
Free Show
,
free shows
,
Glenwood Avenue Arts Fest
,
white mystery
,
white mystery headliner
,
WTTW