CHICAGO CONCERTGOERS REVIEW
Posted Wednesday, July 6th, 2011 at 1:45 am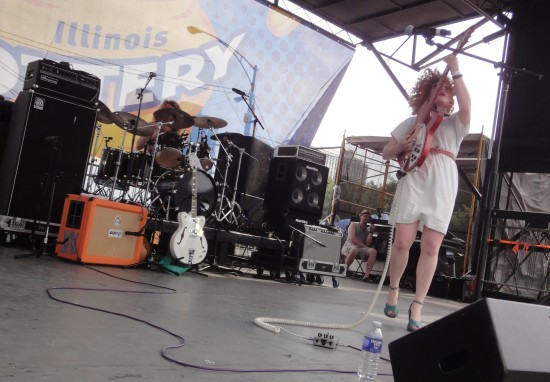 From Chicagoconcertgoers.com, "White Mystery is a brother-sister duo hailing from the city's north side. Miss Alex White plays guitar and sings. Francis White plays drums and sings some, too. Each has wild, red hair. Both rock hard and heavy. Think a more raw and primal version of the White Stripes. This is garage rock with the volume and energy turned to 11.
This gig was a long way from the garage. Alex and Francis looked into the face of the city's lakeshore skyscrapers and sent sonic blasts down the Taste's Columbus Avenue main drag. It was as if they were serving notice that their sound is big enough to take on the whole city. Alex reveled in the glory and power of rock and roll, singing while standing on her toes and jumping repeatedly when she stepped away from the microphone. She's a natural front woman, losing herself in the music and playing as unselfconsciously as if she was rocking alone in a garage. Her lead is infectious. Francis provides the kick behind the kit. He pounded the drums like he was ready to rumble. He did so with such force and aggression that it's clear he has his sister's back in more ways than one.
White Mystery blitzed through, by Alex's post-show estimation, 30 songs in just shy of an hour. "Take a Walk," "Don't Hold My Hand," "Powerglove," "Party," "Birthday" and "Halloween" were among the many highlights from their first two albums, their self-titled debut and Blood & Venom. An impromptu stage visit by Chicago Blackhawks mascot Tommy Hawk added to the fun. Some too-serious-for-their-own-good rockers would have snarled at the uninvited guest, but Alex was amused by the oversized bird and rolled with it.
It's no mystery why there's a buzz about Alex and Francis White. They hit the road Friday on a tour to continue introducing themselves to the rest of the country. Be ready to rock when they return.
By submitting a comment here you grant White Mystery a perpetual license to reproduce your words and name/web site in attribution. Inappropriate or irrelevant comments will be removed at an admin's discretion.
Posted in
News
,
Photos
,
Press
Tags:
fests
,
live show review
,
red
,
summer
,
taste of chicago
,
wild