"The White Siblings," New MySpace
Posted Friday, July 19th, 2013 at 4:20 pm
HELLO, CHICAGO!
Cruising for Courtney Love's Kisses Before Pitchfork Fest
By Jamie Peck • July 19, 2013
Before the masses descend on Union Park for three days of music, our writer and her crew hit the city for some booty-shorts shopping, vegan diner food, a Majical Cloudz pre-party and some onstage PDA with Courtney Love. And it's not even the weekend yet.
What is the sound of one hand raging? I found out last night, when I arrived in Chicago for the Pitchfork Music Festival in advance of the rest of Captain Party, a multi-headed, many-limbed cult of which I am a member, and had to start the fun off without my partners in crime. Much like Pussy Riot or Star Trek's Borg, Captain Party can be assembled from any of the parts of its sum—but can it be formed from just one lonely appendage?
Luckily, I had a little help from Alex and Francis White (of Chicago psych-rock band White Mystery), who generously offered to put me up in the palatial home they share with their parents and brother, a.k.a. the White House. After a rejuvenating nap in Francis' video game room, they brought me to the historically punk rock (but currently bro-infested) neighborhood Belmont and Clark to shop for some rock and roll flair at The Abbey, where I briefly considered the merits of showing up to Pitchfork Fest in full Hot Topic regalia. I ultimately bought some booty shorts decorated with symbols of the occult, because it's never too hot to be evil and you're never too evil to be hot. (Sorry not sorry.)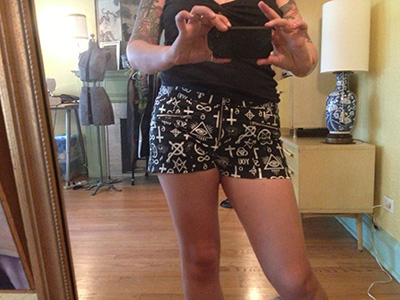 Next, Alex took the youngest White brother Nick to see Courtney Love at House of Blues, while Francis took me to cram my face full of fattening delights at celebrated vegetarian greasy spoon Chicago Diner. I hadn't even made a visible dent in my food before I was so full that I wanted to kill myself. Mission accomplished! Alex called and told Francis that Nick had tried to rush the stage and been kicked in the mouth by Courtney Love, so he left to go get them. I then waddled over to the Pitchfork pre-party, where much to my chagrin, they were giving out free Chipotle that I could not possibly fit inside of me. Oh well. Luckily, I wasn't there to eat Chipotle, but to be gently lowered into the festival madness by the sweet sounds of Majical Cloudz, the Canadian synth-pop duo whose silly name belies the emotional depths they will escort you to if you're willing to go along for the dive.
The selection of this decidedly un-party act as the de facto festival opener speaks to a larger truth about Pitchfork. While the folks behind the tastemaking music site like to have a good time, that good time is just as likely to involve crying into your burrito bowl while skinny bald man croons about death in sock feet as it is shaking yourself around to headbanging riffs—and that's okay. I was a little afraid the drunk people in attendance weren't going to respect that, as they talked through singer Devon Welsh's a capella rendition of the Canadian national anthem. But as soon as the duo launched into the stripped-down, raw, and disconcerting songs of their latest effort Impersonator, most of the talkers fell silent. "Does anyone have some lipstick?" Welsh asked at one point. Someone did. "Can I wear some? It's a serious song and I wanna do something a little bit silly."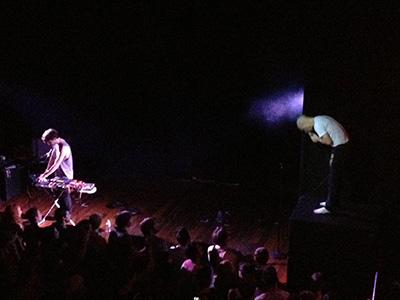 After the pre-party, the White siblings picked me up and took me to The Empty Bottle, where over cheap beer they told me that Courtney Love had not, as Francis had initially heard, kicked Nick on the mouth, but kissed him, which is obviously much better. "I love you Courtney!" Nick had said as he climbed up onstage, and Courtney had bestowed him with the plumpest, sweetest kiss he'd ever experienced, made even more special by the fact that it was the first time he'd really kissed a woman. "It was like being in the front row of an Imax theater where you struggle to adjust to everything that's in front of you," he said. "I looked in her eyes, and she understood."
In an effort to pace ourselves, we retired to the White House, where I'm now writing on the strength of a full vegan breakfast Mama White insisted on cooking for me. This chai tea with almond milk has me feeling mad centered. But if the communication I just received from my friends Dana and Ahmad is any indication, things are about to get a whole lot weirder:
Discover more exclusive content, music, videos and mixes.
By submitting a comment here you grant White Mystery a perpetual license to reproduce your words and name/web site in attribution. Inappropriate or irrelevant comments will be removed at an admin's discretion.
Posted in
Press
Tags:
pitchfork