"White Mystery moves into House Of Vans to mark 15 full circle years of Windy City garage rock," Chicago Concert Reviews
Posted Monday, April 10th, 2023 at 4:20 pm
Over the course of the last 15 years, brother/sister garage rock duo White Mystery has carved out a unique niche as one of Chicago's most intriguing acts.
While they've performed over 1,200 concerts on three continents, sharing the stage with artists like Dave Davies, Iggy Pop, Garbage, Weezer and Patti Smith, the Windy City has always informed the group's work and path.
Born and raised in West Rogers Park, singer/guitarist Miss Alex White and drummer Francis Scott Key White forged ahead on a do-it-yourself path, successfully self-releasing nine albums thanks to a keen eye on the business side, while super serving a loyal fan base.
Embracing Chicago's vibrant music scene, the group has mentored 50 students since forming in 2008, passing along the shrewd music industry instincts that have guided them.
On Saturday, April 15, 2023, White Mystery will celebrate 15 years on stage at House Of Vans in the West Loop, a free, all ages show alongside DJ Jill Hopkins, opening acts Neptune's Core and Roof Dogs, plus actor, writer and musician Fred Armisen ("Saturday Night Live," "Portlandia") as special guest master of ceremonies.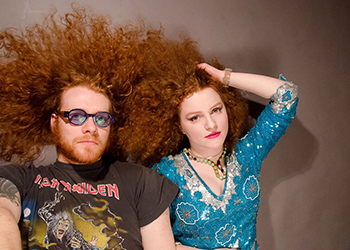 "Playing in a band with my brother is one of the most amazing and meaningful adventures that I've had in my life," Alex White told Chicago Concert Reviews. "Playing our 15th anniversary show on the 15th of April – and having it be free and all ages – are all of the ingredients that we needed to make this a successful show. The first 50 people get Vans swag so you can expect that when you line up. We're giving away shoes. You can RSVP online. And it will be a pre-teen and teen-friendly event. If parents want to bring their children or tweens, that's definitely fine. So bring the kids! We're going for a family feel for sure."
Here's more from the phone call conversation, lightly edited for length and clarity, including thoughts about the anniversary, fond moments spent on stage in town and what to expect at House Of Vans.
Well, 15 years of White Mystery… How has the city of Chicago kind of informed everything you guys have done over that time?
Miss Alex White: White Mystery is a Chicago band. It's the core of our identity. We're born and raised in West Rogers Park up on the north side and went to Chicago public schools. Growing up in the city, just the constant hum and rhythm of Chicago really drives the sound of White Mystery in terms of being intense, loud and persistent.
The city definitely inspires the songs that we write. We have a song called "Two Flats" about growing up in a two flat that talks about John Wayne Gacy, Dillinger and the Red Line – all of those kinds of things that Chicagoans would recognize. "Take A Walk" is about the waves being frozen during winter time. So, Chicago is a huge part of White Mystery.
Whether it's on stage, in the studio or anywhere else, what are a few local highlights that stick out?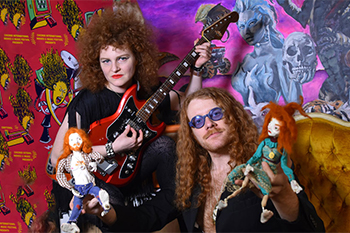 White: We've played 1,200 shows around the world. It's a lot. And a good majority of them were in Chicago, playing Taste Of Chicago, Millennium Park and all of these iconic landmarks.
We played at the top of the Willis Tower [in 2016]. We went all the way up to where the window washers push off. It was for an advertising campaign that never came out. We played songs about Chicago up there – and not on like an observation deck. We played in an industrial level, one below the antenna. They said we would've been microwaved by the antenna if we went to the very top. But seeing Chicago from all of those floors up was just a majestic experience. That was really cool.
Something else that stands out was opening for Garbage at the Metro, where we learned that Shirley Manson is just one of the most amazing people in the music industry. She's lovely. When you meet your hero and they're an incredible person on top of being an incredible talent, that's always very uplifting. And because of that Metro show, Garbage actually took us on the road with them to play a couple more shows in these big theaters. So that was really awesome.
Third, we started playing Riot Fest when it was indoors. We played our first time at the Congress Theater for Riot Fest with Weezer and Urge Overkill [in 2011]. I remember waiting in line at Tower Records on Clark Street for Weezer to sign my jean jacket when I was, like, a freshman in high school. So being able to open for them, bring that jacket and show it to them in person was a really cool full circle moment.
We also played with Sir Richard Branson. It was a "Ferris Bueller's Day Off" kind of parody or homage I guess. It was the grand opening of the Virgin Hotel and they asked us to be the band for this huge pop-up activation when flash mobs were a thing. "Danke Schoen," like in "Ferris Bueller," came on and then we played "Twist And Shout." Sir Richard Branson was Ferris. He was hiding in a parade float. They sent us down Wabash and then he emerged.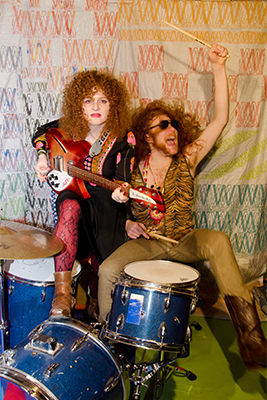 But I think that the most important kind of Chicago experience for us is connecting with our community of DIY musicians and all of the students that we mentored from Columbia College. A lot of young people who are trying to break into the music industry, which many times requires clout that a lot of people aren't born with per se. We mentored 50 students over the course of being in a band, talking about the music industry and taking them to our shows.
All of those things really stand out. And you can listen to an archive of our live shows at our White Mystery Bandcamp. So if anyone is trying to go deep with all of those different shows that I'm talking about, we actually archived something like 100 concert recordings…
What can fans expect at House Of Vans?
White: Playing our 15th anniversary show on the 15th of April – and having it be free and all ages – are all of the ingredients that we needed to make this a successful show. The first 50 people get Vans swag so you can expect that when you line up. We're giving away shoes.
Neptune's Core, who is opening for us, their parents first brought them to see us when they were three and five years old [at] The Hideout Block Party [in 2011] with Mavis Staples, Booker T. Jones and Kids These Days. Those girls are opening for us in Neptune's Core -and have red hair. There's a picture of me holding one, because she's basically an infant, and holding the hand of the other one. They are now old enough to open for us, so that's cool.
The Roof Dogs are a very awesome, up-and-coming indie rock band. Post lockdown, it was like, "How do we find these amazing bands anymore?" That put such a pause on the development pipeline of these really cool garage rock bands. I'm really excited to have them.
And, of course, the pièce de résistance is Fred Armisen! "SNL," "Portlandia," the list goes on. He's flying in from L.A. to emcee! I messaged him and I was like, "Hey, it's a big milestone for us. We'd love to have you…" And he was like, "OK. I'll see you there." So, we're delighted. It's just going to be a big free-for-all and we're excited to invite Chicago to celebrate with us.
No one starts a band thinking about how it's going to resonate. What's it like pondering White Mystery at 15?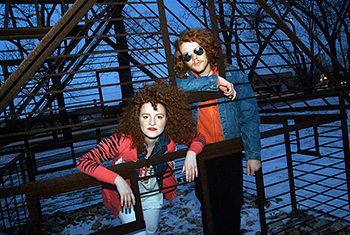 White: Playing in a band with my brother is one of the most amazing and meaningful adventures that I've had in my life. Sharing that with him and the things that we've seen – so far – I can only imagine how far the world will have come [in 15 more years].
We used to be driving around in, like, 2009 before smartphones were super widely available and would use an actual GPS machine – not our phones, that wasn't a thing. But we used to fantasize about how cool it would be if we could share everything we were seeing live with our audience. And now we have live streaming. And it's totally accessible and totally free. That was like a pipedream for us that many years ago.
My dream would be if we could get places more quickly. Because the biggest drag of being in a band is traveling all day to get to your destination. An eight hour drive or a four-and-a-half hour flight. I could hope that in the year 2038, we could get places more quickly with less of an impact on the environment.
Our big dream is to capture all of these special memories in some kind of way and share it with our audience. We've talked about doing a book or a podcast or something. As far as what's next, I would just say stay tuned. I would say that's the mystery!
---
White Mystery performs at House Of Vans on Saturday, April 15. For additional details, visit WhiteMysteryBand.com, HouseOfVans.com and Eventbrite.com.
By submitting a comment here you grant White Mystery a perpetual license to reproduce your words and name/web site in attribution. Inappropriate or irrelevant comments will be removed at an admin's discretion.
Posted in
Press
Tags:
Anniversary
,
interview